Grow Tubes are plastic, translucent-to-specific-sunlight tubes that act as mini-greenhouses that protect and nurture the growth of small seedlings until the tree is big enough to survive on its own. Grow Tubes are valuable planting aides, especially in locations where there is less opportunity for care, such as forest or wildlife plantings, or where there is predation by deer, mice, and other critters. Remove the tree stake as it is not necessary when using grow tubes.
Grow Tube Shelter Instructions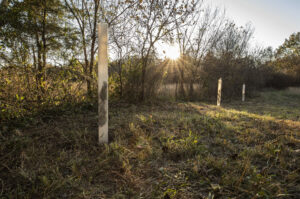 Grow tubes help with weed control by protecting the tree from spray and drift from herbicide, and offer cold protection in late-season frosts. They can dramatically increase growth rates, and small trees often grow out of the top of a 4′ tube in 1 season! We recommend Grow Tubes in many plantings.
DO NOT USE BLACK PLASTIC DRAIN PIPES OR ANY NON-VENTED TUBING AS SHELTER – THEY WILL DAMAGE THE YOUNG TREE!
If you don't use Grow Tubes deer will browse the tops of the young trees. If deer pressure is high it may be necessary to build cages to protect your investment. The best cages are made with 4 metal T-posts driven in the ground in a 4' – 5′ diameter circle around the tree, and then 5-6' heavy wire fencing is wrapped around the T-posts and secured with zip-ties. The Grow Tubes stay on the trees inside the cages to protect against small animals and all of the other benefits. In areas with bears or lots of deer, a cage may be the only way to allow your trees to grow.
If you are planting an orchard or a large food plot, it will be much less expensive to use a 3-wire Electric Fence to keep deer out of your planting. Dr. James Kroll has determined the best system that provides 99% exclusion. This is much cheaper and easier to install than building dozens or hundreds of cages, and much less expensive than 8' metal fencing.